Links: Fetish Resources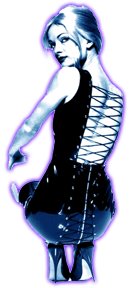 At Trans-MISSION we always welcomed respectful members of the fetish community to our monthly parties. In addition, lots of t*girls enjoy wearing rubber and other materials often associated with the more fetish/bondage side of the tranny scene.

Here are links to some fetish shops and retailers (selling stuff typically made of PVC, latex, rubber and leather) and to UK clubs, events and societies where transvestites should find themselves in good hands (so to speak!) It's worth noting that most respectable fetish shops will not mind if you turn up dressed in your finest frock and you will often find other tranny folk there, either shopping or working behind the counter! Trying on rubber dresses and testing out whips are also not usually frowned upon so if this is your thing, go for it. Trannies have also always been welcome at swingers parties (swinging both ways we imagine) so we have included links to one or two swingers events too.
Fetish Clubs, Events and Contacts

Fetish Shops and Retailers


Honour are probably one of the best known and longest running fetish retailers in the UK and are certainly very tranny friendly. Call into one of their shops and have a look around. Even if 'bondage' isn't your thing, your eyes will be opened to a world of possibilities that you never even imagined were possible!
Fetish Fun!
As well as the fetish scene being part of the tranny one, the opposite is also true. There's always been a silent yet tangible link between the fetish scene and transvestites and transsexuals. For example - most fetish clubs count being cross-dressed as sufficiently 'fetish' to meet their usually strict dress codes (though the outfits that most trannies wear when going to a BDSM club are usually a little more extreme than they would wear to Trans-MISSION!) That being said, we've also included a few links to some of the sexier bondage, BDSM and generally naughty fetish sites that you (and your wallet) might like to explore!


Believe it or not Nylon Jane (a.k.a. Strap-on Jane) is known to some of the girls who come to Trans-MISSION. Like a lot of 'porn' stars, she's actually a pleasure to chat to and it's only when the nylons go on and the whips and chains come out that she turns into her devilish alter ego! If you look carefully, you might even find some of the Trans-MISSION party-goers on her web-site.


Cosplay Erotica is all about 'costume play', that is to say dressing up in costumes and then having (sexy) fun! Though it's not tranny, the whole sexy costume thing is definitely the kind of fetish that a lot of t*girls enjoy!
Disclaimer: Whilst we have made every effort to only include organisations we believe to be respectable and honest, we can not control the content of external web-sites; nor does the appearance of a link constitute any endorsement of a product or service by TransMISSION.

TX Tag Cloud
always
being
bondage
clubs
events
fetish
latex
links
mission
retailers
rubber
scene
shops
tranny
trans
HOME | LINKS | Clubs, Bars & Special Events | Dressing, Escorting & Photography | TG Contacts and Groups | Girl Friends | High Heels, Kinky Boots & Sexy Shoes! | Clothes & Fashion | Lingerie, Jewellery & Costumes | Cosmetics, Wigs & other T*Girl Items | Books, Novels & Stories | Gay, Lesbian and Bisexual | Fetish Resources | Top-Lists & Directories | Tranny Dating