Kinky Boots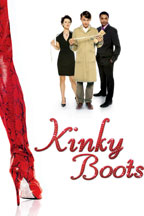 Many of you may will have seen the 2005 film 'Kinky Boots' in which a failing Northampton shoe manufacturer turns to the production of high heeled boots (and shoes) for the niche market of drag queens and 'men who dress as women' (or transvestites as we know them). Whilst the actual story told in the film has been embellished to make it more sexy, the shoe factory actually does exist and is still going producing both traditional brogues as well as their sexy stiletto side-line.

Trading under the name 'Divine', the company produces a high quality range of high heeled products which, as well as being available in 'mens' sizes, are also avaialble for the more petite too. Their prices may be a little higher than some of the other fetish suppliers who source their products overseas (China for example), but the quality of their British made products is excellent. 5-inch plus heels are not for the faint hearted tranny about town, but if you want to give them a go, and be sure that your heel won't break every time you fall over attempting to walk (even though your ankle might!) give Divine a try.

Although Divine does have a web-site, there isn't much to see on it. Divine's range of shoes can be bought at many of the suppliers listed above, in particular Bananashoes.

Oh, and if you have seen the film and wondered were it was set, it wasn't made at Trans-MISSION, nor the WayOut Club, but was meant to be Madame JoJo's in London's Soho district. And some of the trannies who played the audience in the film you will occasionally find strutting their stuff at Trans-MISSION. Many of the others were drag queens who tend not to come out clubbing, as they only don a frock to put on a show!
High Heels in the News…

High heels are costing the nation £29 million a year through injuries to feet, according to new figures.
Operations and medical procedures to correct damaged feet can cost sufferers thousands of pounds a time.
Bunion removal due to wearing high heels too frequently can cost £4,000 a time and £10.5 million is spent on this procedure each year.
Toe straightening, the most common procedure, can cost £1,200 each time and £10.4 million is spent on this every 12 months.
Big toe joint replacement is also costly at £4,000 a time, adding up to £3.3 million over a year.
Corns account for 12 per cent of high heel injuries, and with treatment costing £800 a time, this costs the nation £2.9 million per annum.
Removal of trapped nerves can cost £2,000 to carry out, amounting to £2 million a year, while ingrowing toenails cost £250 to treat and £200,000 is spent on this every 12 months.
The study of 1,000 women, funded by shoe company MBT, found that those living in Liverpool and Manchester were most likely to suffer from wearing heels, with 45 per cent wearing them every day. It also found that 42 per cent of the women surveyed reported having some kind of accident in their heels, with twisted ankles and falling over the most common mishaps.

Emma Supple, consultant podiatrist for the MBT Academy, said: "While we all love our high heels, wearing them for prolonged periods is bad news for our health and our wallets."
"We need to mix and match our choice of footwear to allow our bodies time to recover."
She urged women to consider a more balanced "diet" of shoe wear.


ITN News, 1 October 2008


Trans-MISSION says… It's a good job they didn't interview the tranny community where high heel wearing runs at uncharted highs. As for injuries, sprained ankles are the biggest problem…!

Screen magazine reports that the 2015 Cannes Film Festival turned away women from a red carpet event for not wearing high heels.

Christine Aimé from the festival told the BBC that: "Rules have not changed throughout the years (tuxedo, formal dress for Gala screenings). There is no specific mention about the height of the women's heels."

Vicci Ho, a former film festival programmer, was turned away from a 7pm screening because she was wearing flats. However after arguing with four guards for ten minutes, explaining to them that she had ankle issues which meant she could not wear heels, she was allowed in. She told the BBC: "It's been ridiculous this year. Cannes need to catch up with the times. Being fashionable for a woman is no longer about wearing heels. They need to train their guards better. I was wearing nice leather shoes, but told that these were street shoes and I needed to change them. I respect the rule and the location but at the same time I was in formal dress."

Times journalist Anna Mikha told us she saw a producer turned away from the red carpet until she changed into heels. The furore could be an embarrassment for the festival which has been trying to put women's roles in the world of cinema in the spotlight this year.
BBC Newsbeat, 19 May 2015
Trans-MISSION says… Perhaps they should invite more trannies to the event, as there's no way that any self-respecting tranny would be seen wearing flats, especially if teamed up with a posh frock and lots of red lippy (to match the carpet when they eventually fall to the floor drunk)!
Disclaimer: Whilst we have made every effort to only include organisations we believe to be respectable and honest, we can not control the content of external web-sites; nor does the appearance of a link constitute any endorsement of a product or service by Trans-MISSION.