Our Changing Facilities
Our changing facilities consist of a closed-off area located on the basement floor of our stylish HQ: The Masque Bar Barbican. The changing room is right next to our cloak room which is open for you to can leave your bag once you have changed should you wish.

There are big, well-lit mirrors and ample space for you to put on your face and your fineries, your heels and your hoes (and to take them off again at the end of the night if you so wish). If you need somewhere a bit more intimate to change into your lingerie, the ladies loos are just around the corner.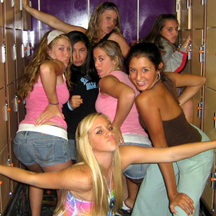 Our Changing Room looks absolutely nothing like this!

The changing room is available all night, though it does tend to get busy from around 9.30 pm to around 11 pm so it's best to arrive a little bit early to be assured of a prime position.

We do not offer a transvestite cross-dressing service (i.e. someone to do your make-up for you) but there are plenty of such services around, some who offer special Trans-MISSION packages. For more information, visit the list of dressing and escorting services on our links pages.

The only use made of our changing room during the whole night is for changing (and as somewhere you can come and check on your make-up), so you can arrive at any time during the night and rest assured of somewhere safe and special to get ready.

TX Tag Cloud
around
arrive
changing
dressing
during
facilities
london
night
offer
ready
services
somewhere
special
tranny
transvestite
HOME | VENUE | Changing Room | The Lounge | Dance-floor | Tranny Friendly Hotels