Get It On!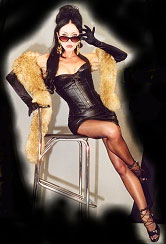 A touchy, feely subject this one but one that merits a little girlie discussion in the corner of a sophisticated lounge bar over a cool glass of Champagne whilst gazing into the mirror. We've already discussed how being a tranny can tinker with your sexuality and on the complexities of tranny relationships where one party is a transvestite, cross-dresser or transsexual, but the issue of sex is one which brings up complications all of its own.

First of all, let's take a walk through some simple facts:
Seeing someone dressed sexily is a turn-on for many hot-blooded individuals.
For many trannies, the fact that it is them who is wearing the sexy clothes brings an added excitement.
Some of those girls feel the need to express this excitement through sexual activity.
Put simply, for many trannies, dressing up makes them horny (whereas it might be argued that for 'regular girls' it is getting naked that turns them on!) There are also transvestites and cross-dressers who do not feel 'completely feminine' until they have been 'taken' by a man. Herein lies the rather interesting dichotomy of tranny sex (and, for that matter, transvestite porn): having sex usually involves removing some or all of your clothes, yet it is the wearing of those clothes that stimulates the sexual excitement in the first place! Perhaps more importantly, a tranny without clothes on is just a man (albeit in make-up and possibly stockings). All this tends to mean that transvestite sex presents some rather unique challenges.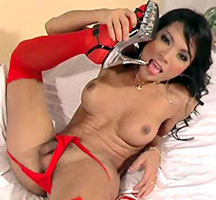 Ouch! in more ways than one!

At this point let's briefly digress into the world of transsexuals. The definition of a transsexual suggests that their body is on the road to being transformed from male into a female. This transformation has many stages but once it reaches the point of surgery it tends to mean that transexuals can remove many more of their clothes and still look feminine. Once they have breasts they can take their bra off without looking too masculine. Once they have their 'wobbly bits' removed then once they are nude, they are really no different from a woman (this is when they are said to be 'post-op'), which is kind of the point of them going through the transformation in the first place! Imagine the disappointment of having arranged a date with a transsexual (or 'shemale' as you might like to think of them) where the thought that they are packing a punch in their trousers does it for you, to find it's been removed and you've nothing different to look at (or play with) than if you'd just gone out with the girl next door.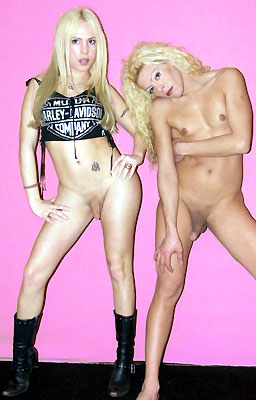 That's not to say that such an eventuality does not have some added appeal. Many of the ladyboys in Thailand are functionally female but still hold their own special allure, because of having been a boy to begin with. Anyway, enough of this digression, for now let's assume that the transvestite, cross-dresser or transexual involved in the sexual act still has their sex organs in the normal place…

There is one minor saviour in this complex situation: as most trannies do not have real 'boobs', there is little to be gained by them removing their bra. This is one item of clothing that may as well remain on, and in doing so bring back some semblance of femininity into the proceedings. Something else that many girls (both transgender and the other kind!) tend to leave on, even in bed, are their high heels, as these too add to the overall appearance of womanliness. A note of caution though, stilettos are named after their namesake blade and can be just as sharp and dangerous - many a bed sheet has been ripped and torn by keeping 'fuck me' heels on in bed, and many deep scratches or cuts have also been caused (though not usually to the wearer). In fact, the only clothing that really needs to be removed in order for a tranny to engage in sex are her knickers (as well as any tights or pantyhose that cover the parts of the body essential for these activities)! Wigs and make-up almost always seem to stay on, as without these the illusion of being a lady is almost completely lost.
Take the picture of the two trannies in various states of undress above as an example. The 'girl' on the right is little more than a man in a wig with make-up on. The girl on the left, however, has kept on some girly cowboy boots and her crop-top which makes her look much more feminine than her friend (assuming that they are friends!) The other thing the tranny on the left has got right is her pose - with her hips sticking out to the left. If you cover the top and bottom of the picture with your hands so that you can just see their waists, you will note that the girl on the right is clearly a boy, whereas the one of the left still stays slightly girlie!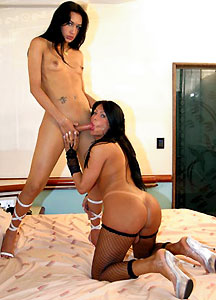 If you didn't believe the bit about high-heels making a difference, check out the picture on the right (we're am sure you already have!) - both girls have their heels on (in bed, tut tut) and other than their make-up (wigs) and a pair of fishnet stockings on one of them, that's just about it!

Though it is hard for some girls to swallow (oo-err), sex which does not include a genetic girl (or a post-op transsexual) is tantamount to gay sex, which brings with it the need for particular caution. Condoms are essential, unless both parties have been checked and confirmed to be clear of any sexually transmitted infections or diseases. The insides of the rectum are both sensitive and delicate and if treated badly can easily be damaged. Lubricant is important and, especially for those unfamiliar with anal sex, taking it gently will make the experience more comfortable. What few heterosexuals realise, though, is that the male G-Spot is inside the rectum and that anal stimulation, once gotten used to, can be particularly pleasurable. If this wasn't the case, it's difficult to see how homosexuality would have such longevity (we know, we know, it's not just about sex!)