Top Tranny Tips: Brides & Bridesmaids
The Thing About Weddings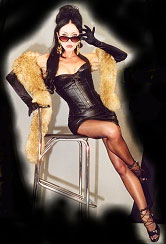 The whole 'tranny bride' thing is not something that we ever did anything special about at Trans-MISSION, but donning a wedding dress and the associated bridal paraphernalia is a relatively common tranny fetish (if you could call it that) for a surprising number of transvestites and cross-dressers. In some way it's the ultimate expression of femininity, representing the moment when a woman goes all out to really look their best. There are plenty of television programmes dedicated to planning weddings and an awful lot of time (and money) is dedicated to choosing a dress and its matching accoutrements (tiaras, shoes, make-up, a hair do and so on).

One of the odd things about cross-dressing brides is that, unlike other women, they put their wedding dresses on whenever they feel like it, instead of just for that 'special day'. There are even social groups and special events dedicated to those who want to share the experience, taking it in turns to dress as the tranny bride whilst their friends are the doting bridesmaids, and there even used to be a venue in the UK whose sole purpose was putting on tranny bride parties (though we believe that they have since stopped these regular events).
A Wedding Outfit for Trannies
In principal, dressing up as a bride (or bridesmaid) is no different from any other costume or uniform, it's a matter of understanding the pieces of clothing and other items that you need in order to replicate the 'look'. For a bride, the list goes something like this:

A wedding dress (obviously) - usually in white, ivory or cream but increasingly in other colours. Something long and flowy (possibly even with a train) and often made of lace or with lace (or rhinestone) trim. Many wedding dresses are made bespoke for the wearer and so getting a size and even a cut that flatters the typical tranny figure isn't too hard (as long as you're prepared to have a nice chat with the people in the dress shop). Many trannies go for extra frilly dresses, or those with lots of taffeta to puff them up.
Plenty of sparkly jewellery - A tiara or other head-dress is often used to keep hair in place or even to hold on extensions to make the hair look longer - ideal for holding your wig in place. Something showy around your neck always looks good, and a large brooch is not uncommon either. It's up to you whether you buy a wedding or engagement ring to wear or not!
Slightly over-the-top make-up - most girls only put on a lot of make-up if they're going on a night out clubbing or on the pull, but this is often topped by how much they use on their wedding day to ensure that they look their best in the myriad of pictures and photos that get taken (which is a bit of a shame as most girls don't need that much to look great). Most trannies, however, have to wear this much make-up as a matter of course so it shouldn't cause any difficulties for your t*girl about town!
Long gloves - Not all brides do this, but many do wear long (elbow length) gloves that match the colour of their dress. This can be a godsend for trannies, as it avoids the need to shave your arms and the associated difficult questions about where your body hair has gone! A long sleeve dress will overcome the same problem.
Fancy lingerie - You could argue that this is a bit pointless for a tranny bride as under that dress and the rest of the outfit, you can't really see underwear, but most girls splash out on fancy lingerie for their wedding day and whether it's going to be on public (or private) display or not, if you're going for authenticity, stockings, suspenders and even a nice bodice or corset is a must. Of course if you're intending to let your 'husband' carry you over the threshold later in the evening, sexy underwear is presumably essential.
Wedding shoes - This is one area that most trannies would not even stop to think about, as their shoe collection would rival Imelda Marcos. Wedding shoes tend to have relatively sensible heels (you don't want to go falling over) of 2 to 3 inches, and often come in white, ivory, etc to match your dress. And the good news is that wedding shoes are often available in tranny-friendly large sizes (as tall/big girls get married too you know!)
That's probably the lot other than a matching handbag to carry your spare lipstick and powder in! Just looking at the list above looks like a tranny shopping list for any day of the week, no wonder the whole 'wedding' thing is so popular! Some typical examples of the resulting look are presented for your pleasure below (with thanks to, amongst others, the members of the The UK Tranny Brides Pool) ...
The Relatively Normal...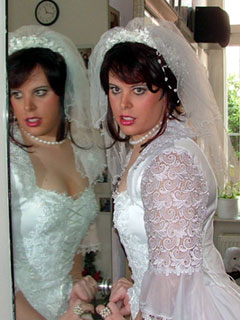 A pretty bride with a lace veil, note the long sleeves to cover her arms.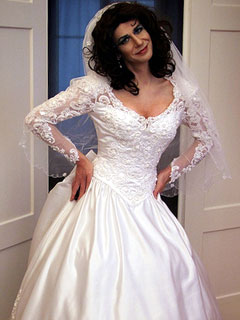 A typical tranny bride, again with the long sleeves!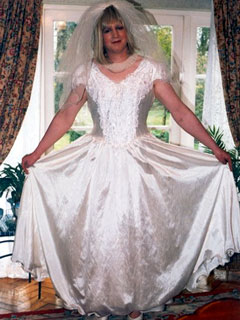 Big, flowing wedding dress and girlie pose but arms left uncovered.
A different approach...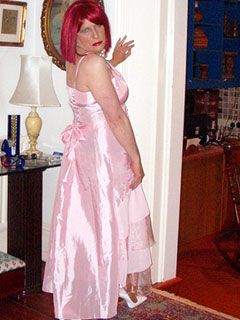 A tranny bridesmaid in pink (with matching pink hair!)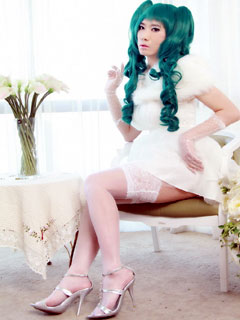 Green hair and white stockings? Well she still looks pretty!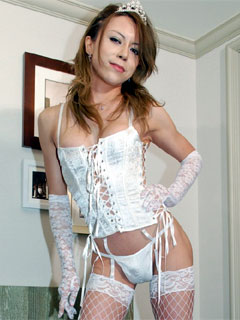 Long gloves but the dress is rather short, wouldn't you say?