Top Tranny Tips: Uniforms, Costumes & Fancy Dress
Uniforms, Costumes & Fancy Dress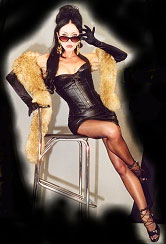 We suppose it is no surprise that there is a connection between the idea of men 'dressing up' as women (as opposed to 'dressing down' which is a very different thing) and the concept of 'fancy dress'.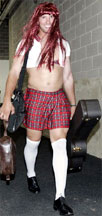 . The fact that many trannies like, not just to dress as a woman, but to dress as an identifiable female role-model is perhaps taking the idea of becoming a woman one step further than just cross-dressing. There are some very distinctive female costumes and uniforms which no (normal!) men would wear and by putting one of these on there can be no doubt as to who or what the tranny concerned is trying to become. In fact, this is the area of cross-dressing which most non-tranny men ever come across as they don a maids outfit or a naughty schoolgirl costume to go to a fancy dress party or stag-do. It's also the easiest excuse for trannies and cross-dressers who are 'caught in the act' to give... "I was on my way to a fancy dress party. Honest Dave, I was. You don't think I usually wear a Little Bo Peep outfit do you?"
Common as Hens' Teeth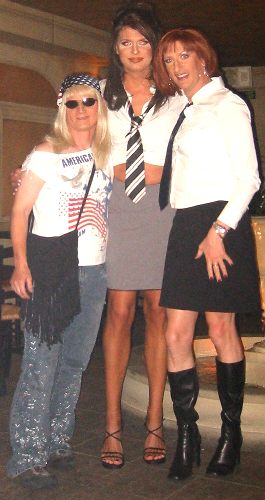 One of the problems facing any would-be tranny uniform fetishist is where to get them from. Though there are a multitude of on-line shops which sell various nurse, schoolgirl, waitress, air hostess and maid outfits they aren't normally cut to 'transvestite' sizes. Often they actually only come in small, medium or large and the large ones aren't that big either, especially if you're a tall tranny (and many of us are). The best option is to figure out what items you need to make the outfit you're looking for and then just buy a few odds and sods to finish it off.

Take our models on the right here - the simple addition of an old school tie and a white blouse with a pocket on it together with a pretty standard black skirt, black tights and some high heel boots and the resulting outfit does a reasonable impression of a schoolgirl (remembering to unbutton the top two buttons of the blouse and loosen the tie!) Another great place to look for ideas is in films and TV programmes. St. Trinians for example, offers a wealth of ideas for the would-be cross-dressing schoolgirl. Similarly the many British 'Carry On ...' films have all kinds of nurses, waitresses, maids and schoolgirls in them (and are usually good for a laugh too!) Deconstructing what someone is wearing so that you can re-construct that outfit on yourself is an essential task for any tranny, and it's perhaps easiest to do with distinctive outfits and uniforms as the bits that go into making one up are usually pretty obvious.

One of the most common 'outfits' that many transvestites seem to relish the opportunity to don is that of a bride (or bridesmaid). We have dedicated a whole page to the whole 'tranny brides/wedding thing' given how normal this seems to be!
Costumes The Easy Way
Probably the best way to get a costume together is to analyse what makes a specific person look like the person they are and then get the various bits together in your own size. In the pictures above we've had a go at illustrating what we mean by identifying the different bits that make specific costumes unique.

Failing that, and if you're short for time, there are one or two on-line retailers who sell outfits which if you're lucky enough to fit the typical 'woman' size of clothing you might find useful - or even the 'party shop' in your local town might have some (un)suitable uniforms - though it is worth remembering that the quality of material is important if you are going to go out in something. You don't want your dress ripping to shreds whilst dancing in the middle of a club (or then again, maybe you do!)

TX Tag Cloud
blouse
costume
costumes
dress
dressing
fancy
nurse
outfit
outfits
schoolgirl
short
tranny
which
white
woman
HOME | TIPS | Breastforms | Brides & Bridesmaids | Corsets | Costumes & Uniforms | Dating A Tranny | Fetish Fun | Hair Removal | Knickers & Tucking | Let's Talk About Sex | Lost In Trans-Lation | Make-Up | Names & Titles | Relationships | Sexuality | Skirts & Dresses | Starting Out | Tights, Hose & Stockings | Wearing High Heels | Wigs & Hair