Top Tranny Tips: Stockings & Tights (Pantyhose)
Stockings, Tights and Pantyhose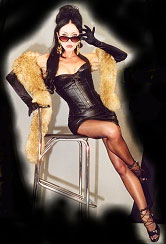 There's little to no value in us telling any self-respecting tranny what stockings and tights (which is the term we're going to use, being the English word and not 'pantyhose' which is the American one) are - that much is clear. However, there are clever things that us transvestites can do with them, and a few pitfalls to note, that will make life just that little bit easier.

Many cross-dressers worry about what the reaction might be if they shave their legs, especially those who regularly play sport with their male buddies from time to time. We have covered the whole shaving debate elsewhere, however you would be surprised just how many transvestites do not shave their legs, and instead rely on the clever use of tights to give the illusion that they have! How does this miracle or modern tranny technology work? Well... tights come in a variety of thicknesses, measured in 'Denier'. A low Denier figure indicates that the tights are very thin, a high number indicates that they are much thicker and the range goes from about 5 to 40 or more. Above 25 Denier, tights become virtually opaque which presents two interesting ways of using them:
Wearing a pair of thick black tights will cover up any leg hair completely, thus giving the casual admirer no indication that your legs are anything other than smooth. The result is similar to wearing black leggings and you need to choose an outfit accordingly to go with them - a pair of boots and a short skirt will bring it all together into a simple, sexy, look. Coloured sandals (especially where your toes are visible) will look a bit silly. Of course leggings would do just the same job but finding them in the larger sizes that trannies need is not as easy as finding tights in large or even extra-large sizes.
Wearing a pair of thick tan coloured tights will also cover up any hairs on your leg, making them look naturally hair free. However, the trick here is to then wear a second pair of low Denier or especially fishnet tights over the top. The resulting effect makes it look like you have shaved your legs and are wearing the low Denier tights, and is a very effective way of looking all girly without the hassle of shaving. You would be surprised how many trannies do this and just how good the end result can be!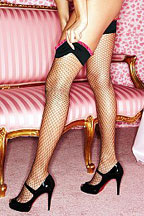 Fishnet Stockings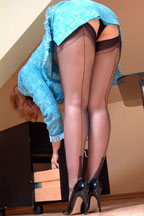 The Tarty Look
A Classy Look
Stockings are a different matter completely to tights as they are almost always low Denier and, of course, leave the top of your legs uncovered (so hairyness is not realy an option). Though it might be possible to wear some thick tan tights and then overlay a pair of stockings, we haven't seen this done - most trannies who wear stockings do shave their legs! If you are particularly tall and have long legs, finding stockings that are big enough can be difficult to find, however it's by no means impossible.

Most shops which supply extra-large (XL) stockings do so for the benefit of larger ladies with a fuller figure, not those who are that bit taller where it is more important to be longer rather than wider. On-line retailers do a little better in this respect (ie for long rather than wide tights) and can be great for funky trend-setting stuff that you won't find in your local lingerie shop including including lurex and latex tights! Many shops that cater for the fetish community will also stock fishnet tights in all kinds of sizes (often including bodystockings and other goodies too).



With the exception of self-supporting stockings ('hold ups'), you will also need a suspender belt to hold your stockings in place. Self-supporting stockings come in two kinds: either they are basically tights with a cut-out at the top of the thigh to give the visual impression that they are stockings, or hold-ups which have a slightly sticky, rubbery layer around the top which is meant to hold them in place - which only works if you aren't intending to go very far and doesn't come with much of a guarantee of 'holdy uppy ness'! Suspender belts come in different sizes, either in the usual small/medium/large, or in dress sizes. The belts themselves may need adjusting - the longer your legs, the longer the belts should be. There is also the choice of 4-strap or 6-strap and the width of the straps. 6-strap, wide suspender belts have their uses but in these modern times, tend to be mostly for 'retro' or 'vintage' effect looks - 4-strap belts with thinner straps are by far the most common.

One final note on stockings: Wearing a skirt that is so short that it shows your stocking tops (and suspender belt) all the time is rather tarty, but is a look that some cross-dresser (and many men) like. Wearing a skirt that is long enough to cover the stocking tops, but which reveals a flash of them when sitting (or has a cut up the side that shows them off when walking) can be very alluring and is the kind of teasing that can be much more sexy than out and out exhibitionism.

TX Tag Cloud
belts
denier
however
large
pantyhose
shaving
sizes
stockings
strap
suspender
tights
trannies
tranny
wearing
which
HOME | TIPS | Breastforms | Brides & Bridesmaids | Corsets | Costumes & Uniforms | Dating A Tranny | Fetish Fun | Hair Removal | Knickers & Tucking | Let's Talk About Sex | Lost In Trans-Lation | Make-Up | Names & Titles | Relationships | Sexuality | Skirts & Dresses | Starting Out | Tights, Hose & Stockings | Wearing High Heels | Wigs & Hair