Trans-MISSION's Top Tranny Tips
The Perfect Tranny!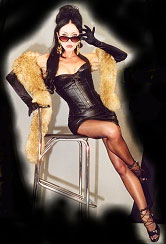 Meet 'Perfula', the perfect transvestite (well, other than the rather silly choice of name). She's using every technique in the book to make herself look as feminine and female as possible, from eye-watering make-up to the most impractical high heels, from a waist clinching corset to tight furtive knickers which keep it all tucked away. Yes, she's got it all! She has a wardrobe full of well-worn wigs, kinky costumes (including brides and bridesmaids dresses), slinky skirts and silky stockings, she's smooth all over, knows all the excuses for having no body hair and even has some of those other cross-dressing items that only us trannies need to know about (such as silicone boobs).

Having spent a few years in the trannying game and having met some helpful and friendly people along the way, we at Trans-MISSION thought we might write down our take on many of the things which can be done well or badly and which make a difference as to how girly you can look. It's not our intention to blow the whistle on the tips and techniques used by those who make a living from feminising girls through dressing services - we are no way qualified to even touch the surface of the skills and experience that they have. Instead let us offer our own take on the many t*girl trials and tribulations that we've seen lots of trannies tackle over the years. Not that we've seen lots of tranny tackle, that would just be weird.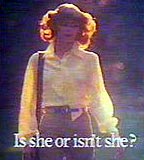 It's also not in our gift to tell you how to 'pass' (that is to say, to look so much like a female that people don't give you a second look whilst out shopping at Tesco), as, to be honest, we've never set out to achieve that, and what's more - there's quite a buzz in having people do a double take on you, when you know they're thinking, "Is She or Isn't She?".

There are, of course, a myriad of books about cross-dressing, transvestism and being a transsexual which can also help you if you're trying to find out more about make-up, dressing, lifestyle choices and so on. Some, it has to be said, are better than others!

Just for completeness, we've added a section on taking your first steps as a transvestite and on the names trannies get called as well as a lighthearted look at alternative trans-lations of other trans words in the dictionary. If anyone has got any particularly good tips and hints that we've completely missed or just wish to correct us anywhere that we've gotten it completely wrong, please do let us know - we'd be more than happily credit you with any information that we publish!

TX Tag Cloud
completely
dressing
female
having
mission
people
perfect
tackle
those
trannies
tranny
trans
transvestite
which
years
HOME | TIPS | Breastforms | Brides & Bridesmaids | Corsets | Costumes & Uniforms | Dating A Tranny | Fetish Fun | Hair Removal | Knickers & Tucking | Let's Talk About Sex | Lost In Trans-Lation | Make-Up | Names & Titles | Relationships | Sexuality | Skirts & Dresses | Starting Out | Tights, Hose & Stockings | Wearing High Heels | Wigs & Hair