Top Tranny Tips: Breastforms, Boobs & Bras
Girl Boobs!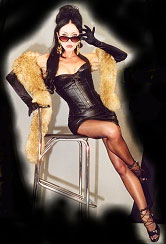 It would be unfair of us to suggest that with the propensity of 'man boobs', many trannies no longer need to think about how to fill a bra, so we won't! What we will talk about is something which is probably one of the oddest bits of 'kit' that you might find needing as a t-girl - breastforms - and the thing which they go in, bras (or brassieres to give them their full name which is not to be confused with brasseries which are fancy french restaurants or a brasier which is something akin to a barbeque).

Breastforms (and bras) are possibly some of the most complicated things to buy when setting out as a cross-dresser, and also some of the most expensive. Getting it right first time is worth a bit of effort and the right items will last you a transvestite lifetime (well, a good 5 years or more). Of course transsexuals who are already endowed with natures finest silicone beneath their chests need not worry about filling their underwear.
On The Cheap
Before going into a long discourse about how to choose the perfect boobs (a passtime most men would enjoy!) it's worth a quick note on doing it on the cheap. Proper breastforms can easily set you back £150. If you just want to give the whole trannying thing a go and don't want to spend such large amounts, there are two alternatives which seem to come recommended by some of the girls we know: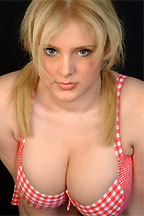 Stockings and Rice - Filling a piece of one half of a pair of stockings (tights or hose) with rice produces a bra-filler which is about the right weight for the size and has a little bit of give to it. It won't feel right to the touch to a seasoned breast-man but it can look pretty reasonable. We have tried this and can vouch for its simplicity and effectiveness! If you just need a little extra padding this could be a cheap and simple way to go.
A Balloon and Honey - We have not tried this and it sounds very messy, but we are told that if you can manage to fill a balloon with the right amount of honey, the result is about right for weight and has the right consistency to make a pretty realistic bra filler that feels right.
Even with these, or other, home-made devices, it's still important to get the size right so read on but, let's be clear about one thing, you are never, ever going to achieve a look like Ashley here on the right no matter how much you spend (unless you spend it on plastic surgery) and if you see pictures of trannies that look like that, take a good hard look at them as they are most likely fake (the pictures that is, and the boobs for that matter).
Size Matters…
Cheap breastforms come in one size and a variety of textures ranging from 'old sawdust' to 'rotten bananaskin'. That is not to say that a low-cost bra-filler can't do the job but it's worth shelling out on something a little bit more professional if you take yourself at all seriously and don't just want to put on a dress to attend your company's annual fancy dress party. The difficulty comes in deciding what size to buy. For some girlz, the bigger the better and we know of one regular transvestite attendee of Trans-MISSION whose boobs are bigger than her head, definitely a case of overdoing it. In most cases, however, the idea is to try and balance the size of your boobs against the size of your chest (and tummy!) so that they are in proportion.

Choosing a breastform, however, is closely linked with working out a bra size. The size of the bra-filler will determine the cup size of the bra. Though it might be many mens' dream to have a woman with a 'DD' cup bra, for trannies a B or C cup is usually sufficient. Men have wider shoulders than women and anything too small or too large just looks out of kilter.
Measuring Up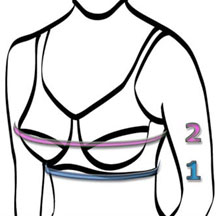 Figuring out your bra size is pretty straightforward. Firstly measure yourself around your chest just below where your breasts would sit which is usually in line with the bottom of your breast bone (where your ribs meet in the middle) - the blue line (number 1) in the picture. The top of your breasts should be about level with your armpit (too many trannies wear them far too high). With the measurement you took (in inches), if it is even, add four, if it is odd, add five (this is your band measurement).

Now measure around your chest where your nipples are (your bust measurement) - the pink line (number 2) in the picture. Note this figure down. A B-cup means that your bust is one inch bigger than your band, a C cup is two inches bigger (D is three, DD is four and so on). So assuming you want to be a C-cup which is a reasonable starting place, the size of your bra is the band measurement plus a 'C'.

To work out how much filling you need, take your bust measurement plus the number of inches relating to your chosen cup size and subtract the bust measurement you took. To make it (much) easier, we've sorted out an on-line tranny bra size calculator to do the job for you! Just enter your measurements in the fields above and select a cup size and everything else is calculated for you. If the padding you need is small, some girls will occasionally only require the kind of bra-filler known as a 'chicken fillet' (due to its similarity in look and size to a chicken breast).
Where To Go
Bras of course can be bought pretty much anywhere and although transvestites and cross-dressers often need ones with relatively large chest bands, these are generally available from most suppliers. Where can you get breastforms from though? A good question! In real life, only three kinds of people would venture out shopping for such things, and these are:
Trannies!
Women with small boobs who want to look bigger; and
Women who have had to have a mastectomy.
Because of the women who fall into the middle category, small breastforms (such as the previously aforementioned chicken fillets) whose function it is to pad out a bra to make the filling seem bigger can be found in many shops which sell lingerie and underwear as well as some larger department stores (such as John Lewis or Debenhams in the UK). For larger silicone ones, it is normally necessary to go to a specialist supplier. There are quite a range of specialist transvestite suppliers who sell breastforms with prices and quality varying wildly. Take a look in our personal shopper section at the 'specialist t*girl items' section for some suggestions.

Taping
One rather odd, and sometimes painful, boob related tranny activity is that of 'taping'. The idea here is to use a piece of tape (usually surgical tape though duct tape or even strong parcel tape will do) to pull your nipples together, forcing your breasts closer together and creating a very effective cleavage, no matter how large your chest. Now, if you then place your breastforms into a bra and put these over the top, you not only have boobs, but a decent cleavage too (though anyone who looks closely enough will note that they are not one and the same thing!) We know several girls who do this and produce spectacular looking cleavage, however, there are two main problems with this. First, it can be very, very uncomfortable (that being said, there are those for whom that would be an attraction!) Second, if the tape comes undone (as it might, for example, if you started to sweat) the effect is lost and you end up with sticky breasts. Nonetheless there are many transvestites and cross-dressers who swear by this little tip and wouldn't be seen without their plummeting necklines.

Phew! We managed that whole discourse without using the word 'tits'. Oops!