All we could do was 'step back in time' as Trans-MISSION returned to the 1980's special we called 'Cruel-SUMMER' on


SATURDAY 7 AUGUST 2004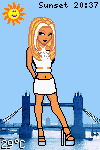 Wasn't it Billy Idol who sang "'Cause when a long-legged lovely walks by, yeah you can see the look in her eye, then you know that it's Hot in the City" in 1990? Which sadly means it wouldn't have been one of the tunes that we were playing at Trans-MISSION this month as we journeyed further back in time to the 1980's for a night of Wham!, Madonna, The Pet Shop Boys, Duran Duran and A-Ha.

Well it certainly was hot as the TX WeatherDoll here on the right records, but thanks to the copious air-conditioning at our swish HQ, the dancefloor remained nice and cool for the 180 of you who turned up for what everyone we spoke to agreed made a fun change - who knows, if enough of you continue to badger us, we might just do it again...!
Use the left and right arrows to move the pictures across the screen
[ Total picture size 557.6K ]

TX Tag Cloud
august
duran
london
mission
party
pictures
right
shemale
trannies
tranny
trans
transmission
transsexual
transvestite
transvestites
HOME | EVENTS | Latest News | Forthcoming Events | Nearby Hotels | Dress Code | Entry | Reviews | | 3 Feb 07 | 6 Jan 07 | | 2 Dec 06 | 4 Nov 06 | 7 Oct 06 | 9 Sep 06 | 5 Aug 06 | 1 Jul 06 | 4th Birthday Party 24 Jun 06 | 3 Jun 06 | 6 May 06 | 1 Apr 06 | 4 Mar 06 | 4 Feb 06 | 7 Jan 06 | | 3 Dec 05 | 5 Nov 05 | 1 Oct 05 | 3 Sep 05 | 6 Aug 05 | 2 Jul 05 | 3rd Birthday Party 25 Jun 05 | 4 June 05 | 7 May 05 | 2 Apr 05 | 5 Mar 05 | 5 Feb 05 | 8 Jan 05 | | 4 Dec 04 | 6 Nov 04 | MANCHESTER 16 Oct 04 | 2 Oct 04 | 4 Sep 04 | 7 Aug 04 | 3 Jul 04 | 2nd Birthday Party 19 Jun 04 | 5 Jun 04 | 1 May 04 | BIRMINGHAM 17 Apr 03 | 3 Apr 04 | 6 Mar 04 | 7 Feb 04 | 3 Jan 04 | | 6 Dec 03 | 1 Nov 03 | 4 Oct 03 | 6 Sep 03 | 2 Aug 03 | COLCHESTER 25 Jul 03 | 5 Jul 03 | 1st Birthday Party 21 Jun 03 | 31 May 03 | 3 May 03 | 5 Apr 03 | 1 Mar 03 | 1 Feb 03 | 4 Jan 03 | | 7 Dec 02 | 9 Nov 02 | 5 Oct 02 | 7 Sep 02 | Launch Party 22 Jun 02