As teenagers all over the country found their school uniforms were now far too small, t*girls from all over the country used the same concept to pick their outfits on


SATURDAY 9 SEPTEMBER 2006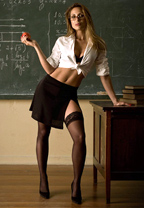 Since the arrival of Miss Hotley, Geography lessons had never been so popular...

First off, a big big thank-you to all (120) of you who made it to Trans-MISSION this month. We were forced to change the date of the event at short notice and know that many of you book your visits months in advance as our 'first Saturday' programme is highly predictable. For those who want the full story, here it is: The management of the Masque Bar are fully aware that TX is on the first Saturday of every month, however not all the new staff are. One of the new staff took a booking for 2 September without checking with the management and hence - a double booking. Rather than sharing the venue, with the potential for aggravation and mishap, we took the decision to change the date instead (it was either that or cancel the September event). Anyhow, mistake having been made by the bar's management, they have ensured us that no such problems will occur again (it's worth noting that the previous management - when the bar was called 'The Extra Time Bar' - did exactly the same thing once - to err is human!)

And so onto the event itself. With long nights closing in, and the temperatures finally reaching something 'trannyable', rather than being the scorching 30°C plus we've had over the summer, many familiar faces were tempted back out of the closet. What's more, we were graced by a happy handful of newbies too, plus a handful of international tranny superstars! Our new addition - our downstairs 'café' bar - once again proved very popular, the combination of comfy leather sofas and waiter drinks service seemingly very tempting to those who fancied a natter.

Those who have had their photo taken at TX will know that Vicky, our resident photographer's usual ruse to get people to smile is to say, "Pretend you're enjoying yourselves". This month, she decided to try and get people to pull the kind of poses you see in the C&A catalogue (or any other mail-order catalogue of your choice) - see if you can spot those who took up the challenge as we hand you over to our regular monthly picture scroller...
Use the left and right arrows to move the pictures across the screen

TX Tag Cloud
event
first
happy
london
management
masque
month
pictures
right
those
trannies
tranny
transmission
transvestite
transvestites
HOME | EVENTS | Latest News | Forthcoming Events | Nearby Hotels | Dress Code | Entry | Reviews | | 3 Feb 07 | 6 Jan 07 | | 2 Dec 06 | 4 Nov 06 | 7 Oct 06 | 9 Sep 06 | 5 Aug 06 | 1 Jul 06 | 4th Birthday Party 24 Jun 06 | 3 Jun 06 | 6 May 06 | 1 Apr 06 | 4 Mar 06 | 4 Feb 06 | 7 Jan 06 | | 3 Dec 05 | 5 Nov 05 | 1 Oct 05 | 3 Sep 05 | 6 Aug 05 | 2 Jul 05 | 3rd Birthday Party 25 Jun 05 | 4 June 05 | 7 May 05 | 2 Apr 05 | 5 Mar 05 | 5 Feb 05 | 8 Jan 05 | | 4 Dec 04 | 6 Nov 04 | MANCHESTER 16 Oct 04 | 2 Oct 04 | 4 Sep 04 | 7 Aug 04 | 3 Jul 04 | 2nd Birthday Party 19 Jun 04 | 5 Jun 04 | 1 May 04 | BIRMINGHAM 17 Apr 03 | 3 Apr 04 | 6 Mar 04 | 7 Feb 04 | 3 Jan 04 | | 6 Dec 03 | 1 Nov 03 | 4 Oct 03 | 6 Sep 03 | 2 Aug 03 | COLCHESTER 25 Jul 03 | 5 Jul 03 | 1st Birthday Party 21 Jun 03 | 31 May 03 | 3 May 03 | 5 Apr 03 | 1 Mar 03 | 1 Feb 03 | 4 Jan 03 | | 7 Dec 02 | 9 Nov 02 | 5 Oct 02 | 7 Sep 02 | Launch Party 22 Jun 02