Rumour has it that Santa is looking to spice up his image. So at Trans-MISSION, we thought we would help his search on


SATURDAY 2 DECEMBER 2006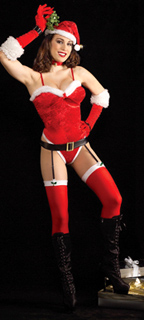 Never had Santa's stocking-fillers proved quite so popular

It seems that Christmas brings out the best in everyone. It certainly brought out the t*girl in everyone as just over 240 turned out on a blustery night to make it Trans-MISSION's busiest December party ever! And rather than being a chill in the air, the atmosphere at TX was hot with plenty of outfits and costumes that might have been cold to wear but certainly raised the temperature of those in the vacinity. We had a couple of Santa's and plenty of sparkly winter outfits (despite the fact that it's theoretically still Autumn). We had visitors from some Nordic countries (in training for later in December perhaps...?) We had a great time. And you did too!

Down in our basement café bar, DJ Hi Heels spun a chilled-out selection of oldies to make the evening even more enticing. The lounge bar seemed to be crammed to the rafters with girls, boys and everything inbetween discussing what they would love for Christmas this year (clothes, make-up, high-heels, laser treatment, 'the op' and so on). And upstairs, the dance-floor was packed with party-goers who all seemed to be up for a bit of Vicky and Jasmine's seasonal selection of scorching tunes. A fabulous night in every way possible, from costumes to clientelle!

There's little more to do now than hand you over to our regular monthly picture scroller except to say that all of us at Trans-MISSION, send you our blessings for Christmas and wish you a very Merry Christmas and a healthy and happy 2007.
Use the left and right arrows to move the pictures across the screen

TX Tag Cloud
christmas
crossdressing
happy
heels
london
masque
mission
party
pictures
santa
seemed
tranny
trans
transmission
transvestite
HOME | EVENTS | Latest News | Forthcoming Events | Nearby Hotels | Dress Code | Entry | Reviews | | 3 Feb 07 | 6 Jan 07 | | 2 Dec 06 | 4 Nov 06 | 7 Oct 06 | 9 Sep 06 | 5 Aug 06 | 1 Jul 06 | 4th Birthday Party 24 Jun 06 | 3 Jun 06 | 6 May 06 | 1 Apr 06 | 4 Mar 06 | 4 Feb 06 | 7 Jan 06 | | 3 Dec 05 | 5 Nov 05 | 1 Oct 05 | 3 Sep 05 | 6 Aug 05 | 2 Jul 05 | 3rd Birthday Party 25 Jun 05 | 4 June 05 | 7 May 05 | 2 Apr 05 | 5 Mar 05 | 5 Feb 05 | 8 Jan 05 | | 4 Dec 04 | 6 Nov 04 | MANCHESTER 16 Oct 04 | 2 Oct 04 | 4 Sep 04 | 7 Aug 04 | 3 Jul 04 | 2nd Birthday Party 19 Jun 04 | 5 Jun 04 | 1 May 04 | BIRMINGHAM 17 Apr 03 | 3 Apr 04 | 6 Mar 04 | 7 Feb 04 | 3 Jan 04 | | 6 Dec 03 | 1 Nov 03 | 4 Oct 03 | 6 Sep 03 | 2 Aug 03 | COLCHESTER 25 Jul 03 | 5 Jul 03 | 1st Birthday Party 21 Jun 03 | 31 May 03 | 3 May 03 | 5 Apr 03 | 1 Mar 03 | 1 Feb 03 | 4 Jan 03 | | 7 Dec 02 | 9 Nov 02 | 5 Oct 02 | 7 Sep 02 | Launch Party 22 Jun 02