MANCHESTER

As Manchester Sparkled, Trans-MISSION celebrated our 4th birthday party with a stunning free party at the super sexy AXM-Bar on

SATURDAY 24 JUNE 2006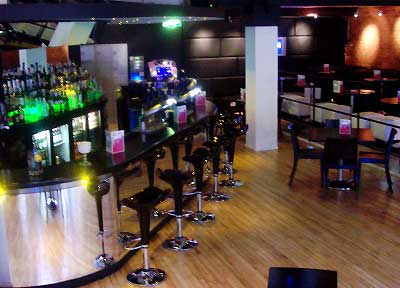 It's always a pleasure to be able to say 'Thank You' to those of you who often make the trip from all over the UK to visit us in London, by bringing the show on the road to other places around the UK. And it's never more of a pleasure than to return to Manchester, as we have done now for 4 years in a row, to celebrate our birthday! This year our birthday party took place at the fabulous AXM-Bar in Canal Street and the whole thing began with a bang on the Friday night when AXM had the official opening ceremony of its new t*girl changing rooms. The changing rooms are fab - if you're in Manchester and looking for somewhere to put on your make-up and high heels, the new room at AXM has to be one of the best fitted we've seen - there's oodles of mirrors and even a sink so you can de-fuzz your face if you need to.

As last year, the organisers of Sparkle, the 'National Transgender Celebration' decided to join us in Manchester for the weekend and put on a blinding event with activities galore. We've no idea what the official count was but it's fair to say that the whole of Manchester's 'Gay Village' was swamped with t*girls enjoying the (for once!) perfect trannying weather - not too hot, not too cold. On the Saturday night, literally hundreds of girls descended to the Trans-MISSION birthday party where DJ's Jasmine Clarke and Vicky Valentine ensured as diverse a mix of music as there were of girls.

Our apologies that we didn't manage to take everyone's picture, there were just too many of you, but we hope you enjoy those we did snap and without further ado, let's turn you over to our picture scrolling gizmo so you can enjoy the event. And finally, a BIG THANK YOU to all of you who expressed your congratulations on our birthday and to those who came and joined in the fun - remember, Trans-MISSION isn't just for you, it's about you!
Use the left and right arrows to move the pictures across the screen

TX Tag Cloud
birthday
canal
girls
london
manchester
mission
party
pictures
sparkle
street
those
trannies
trans
transmission
transvestites
HOME | EVENTS | Latest News | Forthcoming Events | Nearby Hotels | Dress Code | Entry | Reviews | | 3 Feb 07 | 6 Jan 07 | | 2 Dec 06 | 4 Nov 06 | 7 Oct 06 | 9 Sep 06 | 5 Aug 06 | 1 Jul 06 | 4th Birthday Party 24 Jun 06 | 3 Jun 06 | 6 May 06 | 1 Apr 06 | 4 Mar 06 | 4 Feb 06 | 7 Jan 06 | | 3 Dec 05 | 5 Nov 05 | 1 Oct 05 | 3 Sep 05 | 6 Aug 05 | 2 Jul 05 | 3rd Birthday Party 25 Jun 05 | 4 June 05 | 7 May 05 | 2 Apr 05 | 5 Mar 05 | 5 Feb 05 | 8 Jan 05 | | 4 Dec 04 | 6 Nov 04 | MANCHESTER 16 Oct 04 | 2 Oct 04 | 4 Sep 04 | 7 Aug 04 | 3 Jul 04 | 2nd Birthday Party 19 Jun 04 | 5 Jun 04 | 1 May 04 | BIRMINGHAM 17 Apr 03 | 3 Apr 04 | 6 Mar 04 | 7 Feb 04 | 3 Jan 04 | | 6 Dec 03 | 1 Nov 03 | 4 Oct 03 | 6 Sep 03 | 2 Aug 03 | COLCHESTER 25 Jul 03 | 5 Jul 03 | 1st Birthday Party 21 Jun 03 | 31 May 03 | 3 May 03 | 5 Apr 03 | 1 Mar 03 | 1 Feb 03 | 4 Jan 03 | | 7 Dec 02 | 9 Nov 02 | 5 Oct 02 | 7 Sep 02 | Launch Party 22 Jun 02