It might have been April Fools' Day, but there were only bright sparks partying the night away at Trans-MISSION on


SATURDAY 1 APRIL 2006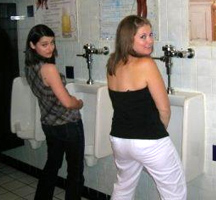 "Damn it April, I knew we shouldn't have believed that woman with the big hands..."

April the 1st is traditionally April Fools' Day here in the United Kingdom, where people attempt to play tricks on each other and make them look silly. But there were no silly girls at Trans-MISSION this month, instead just over 240 of you turned up to do things the TX way and enjoy a packed night of partying.

Recipients of the Trans-MISSION newsletter (if you don't get it you can sign up here) will have been aware that our regular monthly venue in Barbican is under new management. As well as a change of name (from 'The Extra Time Bar' to 'The Masque Bar Barbican') the new owners have set about doing some renovation to the trusty building. If you weren't at the club this month, you will spot some of the changes in this month's pictures. Comfy new leather chairs in our chill-out area, sexy new wallpaper (if there is such a thing). More changes are to come so keep your eyes peeled.

I guess you'd like to see for yourself though, so here are the pictures you've come to view...
Use the left and right arrows to move the pictures across the screen

TX Tag Cloud
april
barbican
girls
london
masque
mission
month
pictures
silly
tranny
trans
transmission
transsexual
transvestite
transvestites
HOME | EVENTS | Latest News | Forthcoming Events | Nearby Hotels | Dress Code | Entry | Reviews | | 3 Feb 07 | 6 Jan 07 | | 2 Dec 06 | 4 Nov 06 | 7 Oct 06 | 9 Sep 06 | 5 Aug 06 | 1 Jul 06 | 4th Birthday Party 24 Jun 06 | 3 Jun 06 | 6 May 06 | 1 Apr 06 | 4 Mar 06 | 4 Feb 06 | 7 Jan 06 | | 3 Dec 05 | 5 Nov 05 | 1 Oct 05 | 3 Sep 05 | 6 Aug 05 | 2 Jul 05 | 3rd Birthday Party 25 Jun 05 | 4 June 05 | 7 May 05 | 2 Apr 05 | 5 Mar 05 | 5 Feb 05 | 8 Jan 05 | | 4 Dec 04 | 6 Nov 04 | MANCHESTER 16 Oct 04 | 2 Oct 04 | 4 Sep 04 | 7 Aug 04 | 3 Jul 04 | 2nd Birthday Party 19 Jun 04 | 5 Jun 04 | 1 May 04 | BIRMINGHAM 17 Apr 03 | 3 Apr 04 | 6 Mar 04 | 7 Feb 04 | 3 Jan 04 | | 6 Dec 03 | 1 Nov 03 | 4 Oct 03 | 6 Sep 03 | 2 Aug 03 | COLCHESTER 25 Jul 03 | 5 Jul 03 | 1st Birthday Party 21 Jun 03 | 31 May 03 | 3 May 03 | 5 Apr 03 | 1 Mar 03 | 1 Feb 03 | 4 Jan 03 | | 7 Dec 02 | 9 Nov 02 | 5 Oct 02 | 7 Sep 02 | Launch Party 22 Jun 02