The New Year is a time to let your hair down and party. Or put your hair up, and party down at Trans-MISSION London, just as we did on


SATURDAY 6 JANUARY 2007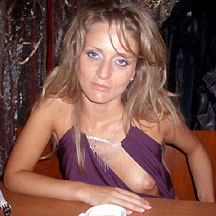 Deborah's new dress was a little more revealing than she had expected...

Everyone loves a party. And none more so than us at Trans-MISSION. Each month we try and think up increasingly random reasons for putting on our parties, but the first one of the new year never needs an excuse. It's the new year and time to renew your t*girl vows all over again and commit to another year of fun, frolics and fabulousness. And with 180 of you turning up to celebrate the start of 2007 with us, it was another fabulously fun night at our London HQ, the Masque Bar Barbican.

In case you hadn't noticed, as of 2007 TX has new opening hours. We now open an hour later at 9 p.m. (21h00 in Euros) and close at 3 a.m. (03h00), that's a whole hour later. This follows our experiment in November 2006. And it seems that many of you took advantage of our later opening hours as there were certainly plenty of girls still around at 3 a.m. when the music finally stopped and the taxis were lined up outside ready to transport you back to your hotels. All-in-all a rather fantastic start to the new year which has set us in good stead for the 12 months ahead.

On behalf of the whole Trans-MISSION crew we wish you a successful, sexy and splendid 2007 and hope to see you at one of our events soon.
Use the left and right arrows to move the pictures across the screen

TX Tag Cloud
barbican
crossdressing
dress
later
london
masque
mission
party
pictures
revealing
right
trans
transmission
transsexual
transvestite
HOME | EVENTS | Latest News | Forthcoming Events | Nearby Hotels | Dress Code | Entry | Reviews | | 3 Feb 07 | 6 Jan 07 | | 2 Dec 06 | 4 Nov 06 | 7 Oct 06 | 9 Sep 06 | 5 Aug 06 | 1 Jul 06 | 4th Birthday Party 24 Jun 06 | 3 Jun 06 | 6 May 06 | 1 Apr 06 | 4 Mar 06 | 4 Feb 06 | 7 Jan 06 | | 3 Dec 05 | 5 Nov 05 | 1 Oct 05 | 3 Sep 05 | 6 Aug 05 | 2 Jul 05 | 3rd Birthday Party 25 Jun 05 | 4 June 05 | 7 May 05 | 2 Apr 05 | 5 Mar 05 | 5 Feb 05 | 8 Jan 05 | | 4 Dec 04 | 6 Nov 04 | MANCHESTER 16 Oct 04 | 2 Oct 04 | 4 Sep 04 | 7 Aug 04 | 3 Jul 04 | 2nd Birthday Party 19 Jun 04 | 5 Jun 04 | 1 May 04 | BIRMINGHAM 17 Apr 03 | 3 Apr 04 | 6 Mar 04 | 7 Feb 04 | 3 Jan 04 | | 6 Dec 03 | 1 Nov 03 | 4 Oct 03 | 6 Sep 03 | 2 Aug 03 | COLCHESTER 25 Jul 03 | 5 Jul 03 | 1st Birthday Party 21 Jun 03 | 31 May 03 | 3 May 03 | 5 Apr 03 | 1 Mar 03 | 1 Feb 03 | 4 Jan 03 | | 7 Dec 02 | 9 Nov 02 | 5 Oct 02 | 7 Sep 02 | Launch Party 22 Jun 02