On this day in 1982, the musical 'Cats' opened on Broadway. But we didn't get catty about it, TX party-goers were slinky, feline and ultra feminine for another purr-fect Trans-MISSION party on


SATURDAY 7 OCTOBER 2006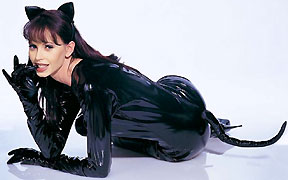 Kara's struggle to find a cat-suit that would accommodate her sought-after 'big tail' was finally over!

Well it seems that once autumn returns to the UK, all the t*girls awake from their summer hibernation and return to Trans-MISSION en masse as 210 of you turned up to party making it one of our busiest October parties ever. And with the fetish fiend's favourite annual party, the 'Rubber Ball', taking place on the same night, we had more than our fair share of girls in just the kind of latex cat-suits that our model here on the right is demonstrating as well as a handful of other dresses whose design ethos was more 'restraining order' than 'hang loose'.

Just for the record, Trans-MISSION has, does and will continue to welcome anyone from the fetish community who enjoys going out to somewhere a little less 'hardcore' than most of the regular clubs. We do have some regulars who come along for just that - a place where they can wear their favourite corset (or whatever!) and come for a natter and a boogy. And that's just what the hundreds of t*girls come for too. That, and to have their picture taken. Which is, I guess, why you came to this page in the first place. Not to have your picture taken, but to see who was movin' and shakin' their stuff at this month's cats inspired cavortions (is that a word...?)

In addition to our own photos, photographeress April Angell was also clicking and snapping her way around Trans-MISSION. You can see April's photos >here<.

This month at TX we were delighted to play host to a book signing ceremony. TX regular 'Tanya Jayne Richards' was selling and signing copiers of her new blockbuster novel 'Tranz-Mania' which charts the stories of two t*girls who run a trendy London night-club... Now I wonder where she gets her ideas! We at Trans-MISSION wish Tanya all the best with her literary endeavors.
Use the left and right arrows to move the pictures across the screen

TX Tag Cloud
fetish
girls
london
mission
month
party
photos
picture
pictures
place
right
taken
trans
transmission
which
HOME | EVENTS | Latest News | Forthcoming Events | Nearby Hotels | Dress Code | Entry | Reviews | | 3 Feb 07 | 6 Jan 07 | | 2 Dec 06 | 4 Nov 06 | 7 Oct 06 | 9 Sep 06 | 5 Aug 06 | 1 Jul 06 | 4th Birthday Party 24 Jun 06 | 3 Jun 06 | 6 May 06 | 1 Apr 06 | 4 Mar 06 | 4 Feb 06 | 7 Jan 06 | | 3 Dec 05 | 5 Nov 05 | 1 Oct 05 | 3 Sep 05 | 6 Aug 05 | 2 Jul 05 | 3rd Birthday Party 25 Jun 05 | 4 June 05 | 7 May 05 | 2 Apr 05 | 5 Mar 05 | 5 Feb 05 | 8 Jan 05 | | 4 Dec 04 | 6 Nov 04 | MANCHESTER 16 Oct 04 | 2 Oct 04 | 4 Sep 04 | 7 Aug 04 | 3 Jul 04 | 2nd Birthday Party 19 Jun 04 | 5 Jun 04 | 1 May 04 | BIRMINGHAM 17 Apr 03 | 3 Apr 04 | 6 Mar 04 | 7 Feb 04 | 3 Jan 04 | | 6 Dec 03 | 1 Nov 03 | 4 Oct 03 | 6 Sep 03 | 2 Aug 03 | COLCHESTER 25 Jul 03 | 5 Jul 03 | 1st Birthday Party 21 Jun 03 | 31 May 03 | 3 May 03 | 5 Apr 03 | 1 Mar 03 | 1 Feb 03 | 4 Jan 03 | | 7 Dec 02 | 9 Nov 02 | 5 Oct 02 | 7 Sep 02 | Launch Party 22 Jun 02