Flaming June was busting out all over, so at Trans-MISSION we tightened our bra-straps and partied the night away on


SATURDAY 3 JUNE 2006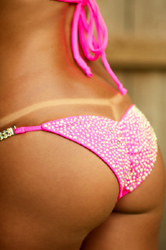 Ouch! Lisa wishes that she had spent the evening at Trans-MISSION instead of sunning herself on her £3 million yacht in the Caribbean...

Now far be it for us to suggest that you should spend an evening in your highest heels and sexiest dresses instead of sitting in your garden soaking up the sunshine - both are equally girlie, but one is much more fun... So despite the sunny weather across Britain, it was gratifying to know that 150 of you chose to party with us at Trans-MISSION. And party we did, as always! Kudos to the new management at our HQ - The Masque Bar Barbican - who did a great job keeping the drinks flowing whilst Vicky and Jasmine ensured that the music was flowing too.

And Trans-MISSION was honoured to give the world premier preview of the 'Song for Sparkle' - no, not a competition for next year's Eurovision entry - but a special song being recoded for this year's National Transgender Celebration. A promo copy of 'Sparkle Tonight' by 'The Treacles' made its way to our funky DJ's who ensured it top billing. And did you all like it? Well, plenty of you were boogying around to the rock 'n' roll party track that will be setting Manchester alight this year.

We'll try and sneak you a preview of the song on our web-site, but until then, in time honoured fashion, here are lots of pictures of the sexy, sultry and downright super souls and soulesses who graced our swish venue this month...
Use the left and right arrows to move the pictures across the screen

TX Tag Cloud
barbican
ensured
flowing
heels
honoured
london
masque
mission
party
pictures
trans
transgender
transmission
transsexual
transvestite
HOME | EVENTS | Latest News | Forthcoming Events | Nearby Hotels | Dress Code | Entry | Reviews | | 3 Feb 07 | 6 Jan 07 | | 2 Dec 06 | 4 Nov 06 | 7 Oct 06 | 9 Sep 06 | 5 Aug 06 | 1 Jul 06 | 4th Birthday Party 24 Jun 06 | 3 Jun 06 | 6 May 06 | 1 Apr 06 | 4 Mar 06 | 4 Feb 06 | 7 Jan 06 | | 3 Dec 05 | 5 Nov 05 | 1 Oct 05 | 3 Sep 05 | 6 Aug 05 | 2 Jul 05 | 3rd Birthday Party 25 Jun 05 | 4 June 05 | 7 May 05 | 2 Apr 05 | 5 Mar 05 | 5 Feb 05 | 8 Jan 05 | | 4 Dec 04 | 6 Nov 04 | MANCHESTER 16 Oct 04 | 2 Oct 04 | 4 Sep 04 | 7 Aug 04 | 3 Jul 04 | 2nd Birthday Party 19 Jun 04 | 5 Jun 04 | 1 May 04 | BIRMINGHAM 17 Apr 03 | 3 Apr 04 | 6 Mar 04 | 7 Feb 04 | 3 Jan 04 | | 6 Dec 03 | 1 Nov 03 | 4 Oct 03 | 6 Sep 03 | 2 Aug 03 | COLCHESTER 25 Jul 03 | 5 Jul 03 | 1st Birthday Party 21 Jun 03 | 31 May 03 | 3 May 03 | 5 Apr 03 | 1 Mar 03 | 1 Feb 03 | 4 Jan 03 | | 7 Dec 02 | 9 Nov 02 | 5 Oct 02 | 7 Sep 02 | Launch Party 22 Jun 02