In the USA, thousands of girls get drunk and party the night away for 'Spring Break'. Meanwhile in the UK t*girls did much the same at Trans-MISSION on


SATURDAY 4 MARCH 2006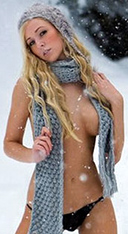 Ah, Spring Break. The time when young American girls rush to the sunshine states, against their parents' best wishes, drink far too much, wear far too little and have themselves a damned good time! Not exactly something that you could do in the UK, and especially this weekend in London where the temperature dropped to -2°C (28°F for our American readers)! But that didn't stop over 230 trannies (and friends) turning up to drink far too much, wear far too little and have a damned good tranny time at Trans-MISSION this month!

Spring is now just around the corner (though with the weather in the UK you wouldn't think so) and what is it they say about young transvestites' minds turning to love? So dig out those sassy spring numbers and come and join us at London's top tranny club. Who knows who you might meet and whether the promise of sexy spring turns into a long hot summer, so come along and have a drink and a boogie and see where the mood takes you.
Use the left and right arrows to move the pictures across the screen

TX Tag Cloud
american
break
drink
girls
london
party
pictures
right
spring
trannies
tranny
trans
transmission
transvestites
where
HOME | EVENTS | Latest News | Forthcoming Events | Nearby Hotels | Dress Code | Entry | Reviews | | 3 Feb 07 | 6 Jan 07 | | 2 Dec 06 | 4 Nov 06 | 7 Oct 06 | 9 Sep 06 | 5 Aug 06 | 1 Jul 06 | 4th Birthday Party 24 Jun 06 | 3 Jun 06 | 6 May 06 | 1 Apr 06 | 4 Mar 06 | 4 Feb 06 | 7 Jan 06 | | 3 Dec 05 | 5 Nov 05 | 1 Oct 05 | 3 Sep 05 | 6 Aug 05 | 2 Jul 05 | 3rd Birthday Party 25 Jun 05 | 4 June 05 | 7 May 05 | 2 Apr 05 | 5 Mar 05 | 5 Feb 05 | 8 Jan 05 | | 4 Dec 04 | 6 Nov 04 | MANCHESTER 16 Oct 04 | 2 Oct 04 | 4 Sep 04 | 7 Aug 04 | 3 Jul 04 | 2nd Birthday Party 19 Jun 04 | 5 Jun 04 | 1 May 04 | BIRMINGHAM 17 Apr 03 | 3 Apr 04 | 6 Mar 04 | 7 Feb 04 | 3 Jan 04 | | 6 Dec 03 | 1 Nov 03 | 4 Oct 03 | 6 Sep 03 | 2 Aug 03 | COLCHESTER 25 Jul 03 | 5 Jul 03 | 1st Birthday Party 21 Jun 03 | 31 May 03 | 3 May 03 | 5 Apr 03 | 1 Mar 03 | 1 Feb 03 | 4 Jan 03 | | 7 Dec 02 | 9 Nov 02 | 5 Oct 02 | 7 Sep 02 | Launch Party 22 Jun 02