'Twas the New Year, so what better reason was there to put on your party dresses and join us at Trans-MISSION in London to celebrate on


SATURDAY 7 JANUARY 2006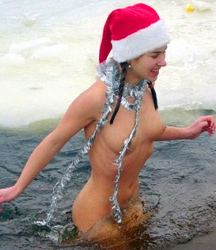 Did you know that in Russia (where it's very very cold in January), Christmas was on the very day that we in London were celebrating the New Year at Trans-MISSION i.e. Saturday 7 January? And did you know that it's not Santa Claus who distributes the presents in Russia but Babushka? And did you know that they go swimming in ice covered lakes? (We made that last bit up) Santa certainly didn't put in an appearance at our club this weekend, but we're not sure exactly what Babushka looks like, except that she is a friendly old lady: And there were certainly plenty of friendly ladies around enjoying the ambience (some old, many young and lots in the middle). In fact there were just over 210 of you who came along in your best dresses to enjoy the start of 2006 with a boogy or three.

This month's photographer was none other than our very own Vicky so apologies if the pictures look a bit rusty, as it's been ages since she's graced the club with her cry of 'Pretend you're enjoying yourself' as she dashes around taking pictures of all and sundry. See what you think...
Use the left and right arrows to move the pictures across the screen

TX Tag Cloud
january
london
mission
party
pictures
right
russia
santa
trannies
tranny
trans
transmission
transsexual
transvestite
transvestites
HOME | EVENTS | Latest News | Forthcoming Events | Nearby Hotels | Dress Code | Entry | Reviews | | 3 Feb 07 | 6 Jan 07 | | 2 Dec 06 | 4 Nov 06 | 7 Oct 06 | 9 Sep 06 | 5 Aug 06 | 1 Jul 06 | 4th Birthday Party 24 Jun 06 | 3 Jun 06 | 6 May 06 | 1 Apr 06 | 4 Mar 06 | 4 Feb 06 | 7 Jan 06 | | 3 Dec 05 | 5 Nov 05 | 1 Oct 05 | 3 Sep 05 | 6 Aug 05 | 2 Jul 05 | 3rd Birthday Party 25 Jun 05 | 4 June 05 | 7 May 05 | 2 Apr 05 | 5 Mar 05 | 5 Feb 05 | 8 Jan 05 | | 4 Dec 04 | 6 Nov 04 | MANCHESTER 16 Oct 04 | 2 Oct 04 | 4 Sep 04 | 7 Aug 04 | 3 Jul 04 | 2nd Birthday Party 19 Jun 04 | 5 Jun 04 | 1 May 04 | BIRMINGHAM 17 Apr 03 | 3 Apr 04 | 6 Mar 04 | 7 Feb 04 | 3 Jan 04 | | 6 Dec 03 | 1 Nov 03 | 4 Oct 03 | 6 Sep 03 | 2 Aug 03 | COLCHESTER 25 Jul 03 | 5 Jul 03 | 1st Birthday Party 21 Jun 03 | 31 May 03 | 3 May 03 | 5 Apr 03 | 1 Mar 03 | 1 Feb 03 | 4 Jan 03 | | 7 Dec 02 | 9 Nov 02 | 5 Oct 02 | 7 Sep 02 | Launch Party 22 Jun 02