You came to Trans-MISSION to give your loved one what they wanted - a night out partying with us and your heart on your knickers on


SATURDAY 3 FEBRUARY 2007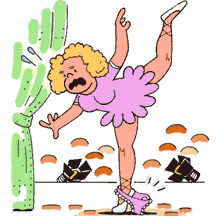 Bella suddenly realised that her prima-ballerina status would be in doubt if anyone saw what was up her skirt!

With Valentine's Day approaching, we thought that the time was right for you to join us at Trans-MISSION with your loved ones for a party to remember. It was even our (silly) suggestion that you wore your hearts on your knickers (instead of the more traditional hearts on sleeves nonsense) and it was clear that more than a few of you had risen to the challenge (not that we went round peeking at people's knickers!)

And join us you did with just shy of 200 of you visiting our swish London HQ, the Masque Bar Barbican, for what proved to be another fabulous party. It was nice to see so many partners along whether female, male or anywhere inbetween, as we have always maintained that TX is somewhere that everyone is welcome and none moreso than those who make the effort to be there with and to support their partners, sharing the fun and frolics together!

And it seems the message about our 3 a.m. closing time is getting around as, at the end of the night, there were still a healthy handful of beauties strutting their stuff on our dance-floor as well as relaxing in the ambience of our new café bar. But as usual, you probably haven't even read this blurb and instead have just come to see who was there, what they were wearing and find out if you can spot any knickers!
Use the left and right arrows to move the pictures across the screen

TX Tag Cloud
crossdressing
heart
knickers
london
mission
night
partners
party
pictures
right
shemale
trannies
tranny
transmission
transsexual
HOME | EVENTS | Latest News | Forthcoming Events | Nearby Hotels | Dress Code | Entry | Reviews | | 3 Feb 07 | 6 Jan 07 | | 2 Dec 06 | 4 Nov 06 | 7 Oct 06 | 9 Sep 06 | 5 Aug 06 | 1 Jul 06 | 4th Birthday Party 24 Jun 06 | 3 Jun 06 | 6 May 06 | 1 Apr 06 | 4 Mar 06 | 4 Feb 06 | 7 Jan 06 | | 3 Dec 05 | 5 Nov 05 | 1 Oct 05 | 3 Sep 05 | 6 Aug 05 | 2 Jul 05 | 3rd Birthday Party 25 Jun 05 | 4 June 05 | 7 May 05 | 2 Apr 05 | 5 Mar 05 | 5 Feb 05 | 8 Jan 05 | | 4 Dec 04 | 6 Nov 04 | MANCHESTER 16 Oct 04 | 2 Oct 04 | 4 Sep 04 | 7 Aug 04 | 3 Jul 04 | 2nd Birthday Party 19 Jun 04 | 5 Jun 04 | 1 May 04 | BIRMINGHAM 17 Apr 03 | 3 Apr 04 | 6 Mar 04 | 7 Feb 04 | 3 Jan 04 | | 6 Dec 03 | 1 Nov 03 | 4 Oct 03 | 6 Sep 03 | 2 Aug 03 | COLCHESTER 25 Jul 03 | 5 Jul 03 | 1st Birthday Party 21 Jun 03 | 31 May 03 | 3 May 03 | 5 Apr 03 | 1 Mar 03 | 1 Feb 03 | 4 Jan 03 | | 7 Dec 02 | 9 Nov 02 | 5 Oct 02 | 7 Sep 02 | Launch Party 22 Jun 02