There one thing that's certain about t*girls, and that's never to be certain about t*girls. Traditionally May is one of our busiest months at Trans-MISSION. Perhaps it's the fact that it's near a Bank Holiday, or just that summer is approaching, or that 'May' is 'Party' backwards (if you say it in Swahili). But this month, what with the rain soaking most of the country and roadworks outside our London HQ taking TX party-goers on a bit of a wild goose chase to get to us (to then find that there was mountains of parking as the road was otherwise largely unused!) 160 of you turned up to enjoy the fun. Mind you, we still all had one whale of a time - even the vaguaries of the British weather can't dampen the spirit of the funky souls and sexy divas that grace the Trans-MISSION

cat-walk

, um,

fashion-show

, ahh... dance-floor!

With summer drawing ever nearer, our June party is traditionally the one where all those girls who turn into Yeti's in the summer, growing their hair back in order to wear shorts and not worry about being noticed for having hair-less legs, turn up in force. Who knows what will happen this time. Tune in to Trans-MISSION next month to find out!

Oh, and here's the photos which is probably what you came for rather than reading this particularly pointless pre-amble...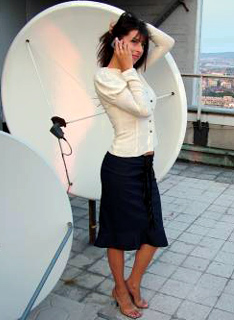 Cara always made sure she got the best reception of Trans-MISSION every month...