We mixed up the formula for the perfect party - one drop of you and two drops of us! The musical chemistry worked its magic on


SATURDAY 1 JULY 2006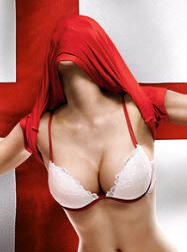 Judy finally realises why the England bikini she bought to wear to Trans-MISSION wasn't the bargain purchase it seemed at the time...

Shhhh... It's an unspoken truth that many t*girls are secretly men in their spare time. And occasionally at the weekend they like to shamelessly dress up in baggy t-shirts and faded shorts, drink warm beer and watch football on the television. And what with temperatures in the South East of Britain rising to over 30°C, many such girls were ludicrously drawn to other summer pass-times such as the ritualistic burning food by engulfing it in flames (otherwise known as a Barbeque). Add this to the fact that several Trans-MISSION regulars were taking part in the Euro Pride events taking place in London, that the whole t*girl planet had spent the previous weekend Sparkling in Manchester and many were going to dip their feet in the water for a cruise on the Thames the following weekend and it was maybe not that surprising that only just 100 of you turned up to enjoy the magical mix of music and relaxation that is TX.

But you missed a doozy of a party. Never forget that our swish HQ, the newly refurbished (and re-named!) Masque Bar Barbican, is fully air-conditioned so no matter what the temperature outside, you need not worry about a make-up melt-down. So those of you who did turn up enjoyed a cool night of the best music and the UK's warmest welcome! And just to prove it, here are the photos...
Use the left and right arrows to move the pictures across the screen

TX Tag Cloud
barbican
chemistry
girls
london
masque
music
party
pictures
trannies
tranny
transmission
transsexual
transvestite
transvestites
weekend
HOME | EVENTS | Latest News | Forthcoming Events | Nearby Hotels | Dress Code | Entry | Reviews | | 3 Feb 07 | 6 Jan 07 | | 2 Dec 06 | 4 Nov 06 | 7 Oct 06 | 9 Sep 06 | 5 Aug 06 | 1 Jul 06 | 4th Birthday Party 24 Jun 06 | 3 Jun 06 | 6 May 06 | 1 Apr 06 | 4 Mar 06 | 4 Feb 06 | 7 Jan 06 | | 3 Dec 05 | 5 Nov 05 | 1 Oct 05 | 3 Sep 05 | 6 Aug 05 | 2 Jul 05 | 3rd Birthday Party 25 Jun 05 | 4 June 05 | 7 May 05 | 2 Apr 05 | 5 Mar 05 | 5 Feb 05 | 8 Jan 05 | | 4 Dec 04 | 6 Nov 04 | MANCHESTER 16 Oct 04 | 2 Oct 04 | 4 Sep 04 | 7 Aug 04 | 3 Jul 04 | 2nd Birthday Party 19 Jun 04 | 5 Jun 04 | 1 May 04 | BIRMINGHAM 17 Apr 03 | 3 Apr 04 | 6 Mar 04 | 7 Feb 04 | 3 Jan 04 | | 6 Dec 03 | 1 Nov 03 | 4 Oct 03 | 6 Sep 03 | 2 Aug 03 | COLCHESTER 25 Jul 03 | 5 Jul 03 | 1st Birthday Party 21 Jun 03 | 31 May 03 | 3 May 03 | 5 Apr 03 | 1 Mar 03 | 1 Feb 03 | 4 Jan 03 | | 7 Dec 02 | 9 Nov 02 | 5 Oct 02 | 7 Sep 02 | Launch Party 22 Jun 02