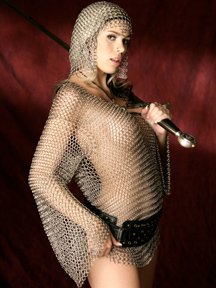 Lynn's knight costume got everyone rather hot under the collar on bonfire night!

For a very long time lots of you have been asking us, "Why can't you open later?". The answer has always been that the bar in which we host Trans-MISSION is in a residential area - for those of you who have been, the building on the opposite side of Barbican tube station comprises apartments. As such, there is a blanket ban on late nights to protect the residents from noise. However, the new owners of the Masque Bar have managed to negotiate a limited number of late night extensions, and they offered us the chance to use one (or more!) of them.

So in a 'win, win, win' solution, you won by getting the later opening that you've been asking for; we won by continuing to give you what you ask for; and the bar won knowing it would be unlikely to upset the neighbours as us trannies aren't exactly a rowdy bunch!

We decided that we would judge the success of the extended hours by
seeing how many people turned up, and
seeing what time people left.
If both scored well, we would seek to open TX later more often. And what were the results? Well 190 of you came through the door that night, making it the second busiest November we've ever had... good start! As for what time you left, by 2a.m. two-thirds of you had already gone home, by 3a.m. 90% had left! The upshot of all this is that we felt the night was successful, and certainly attracted lots of you, but very few took advantage of the later hours. Whether we do it again depends on you - tell us what you thought and what you want and if you really liked the extended hours we're always willing to give it another go.

As for the night itself, there was a really good buzz around the three floors of the bar. DJ High Heels spun some old-time favourites in our Café Lounge whilst Vicky and Jasmine spun some all-time classics on our dance floor. There were lots of new faces around and about as well as some welcome regulars. All in all, one of the most fun nights we've had in ages.

Oh, I guess you want to see the pictures to prove it right? Voici...