The TX party crew tore up the dance-floor to a night of Disco, Funk and Soul that we called 'Saturday Night Diva' on


SATURDAY 5 AUGUST 2006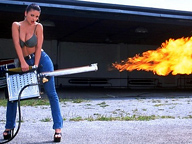 Maria hadn't quite grasped the concept of 'Disco Inferno'...

Trans-MISSION regulars will be aware that our August parties have always been given a special musical theme. And this year was no exception as we turned the night over to a sizzling selection of disco, funk and soul tunes for a special night we called 'Saturday Night Diva'! And that wasn't the only difference at TX this month either. After extensive re-working, our downstairs floor has been metamorphosised from being our cloak room and changing facilities into being a very comfy café style bar area with waiter service and some very comfy seating (our cloak room and changing facilities are still there, in a new, even more secluded and exclusive position and are as good as ever).

The concensus of opinion from those who were there who we canvassed was that they loved it all! The music made a change (though we do often spin disco classics on a regular night too!) and the new café area went down a complete storm, with girls galore commenting on what a nice place it is to relax and how much they enjoyed being waited on by our handsome bartenders!

Our café area will become a regular fixture in future months, make no doubt about that. And also make no doubt that our usual photographer ('Vicky' as she likes to be known, or 'Gettuz-a-drink' as we like to call her) was out and about capturing the 130 smiling Trans-MISSION party-goers who, as always, make our events what they are.

A special 'Buenas Noches', 'Goede Avond' and 'Kalinichta' to the international visitors who graced our dance-floor this month. Nice to see that the good word about TX is spreading far beyond the shores of this sceptred isle of ours!
Use the left and right arrows to move the pictures across the screen

TX Tag Cloud
about
always
barbican
being
comfy
disco
floor
london
masque
night
party
pictures
saturday
special
transmission
HOME | EVENTS | Latest News | Forthcoming Events | Nearby Hotels | Dress Code | Entry | Reviews | | 3 Feb 07 | 6 Jan 07 | | 2 Dec 06 | 4 Nov 06 | 7 Oct 06 | 9 Sep 06 | 5 Aug 06 | 1 Jul 06 | 4th Birthday Party 24 Jun 06 | 3 Jun 06 | 6 May 06 | 1 Apr 06 | 4 Mar 06 | 4 Feb 06 | 7 Jan 06 | | 3 Dec 05 | 5 Nov 05 | 1 Oct 05 | 3 Sep 05 | 6 Aug 05 | 2 Jul 05 | 3rd Birthday Party 25 Jun 05 | 4 June 05 | 7 May 05 | 2 Apr 05 | 5 Mar 05 | 5 Feb 05 | 8 Jan 05 | | 4 Dec 04 | 6 Nov 04 | MANCHESTER 16 Oct 04 | 2 Oct 04 | 4 Sep 04 | 7 Aug 04 | 3 Jul 04 | 2nd Birthday Party 19 Jun 04 | 5 Jun 04 | 1 May 04 | BIRMINGHAM 17 Apr 03 | 3 Apr 04 | 6 Mar 04 | 7 Feb 04 | 3 Jan 04 | | 6 Dec 03 | 1 Nov 03 | 4 Oct 03 | 6 Sep 03 | 2 Aug 03 | COLCHESTER 25 Jul 03 | 5 Jul 03 | 1st Birthday Party 21 Jun 03 | 31 May 03 | 3 May 03 | 5 Apr 03 | 1 Mar 03 | 1 Feb 03 | 4 Jan 03 | | 7 Dec 02 | 9 Nov 02 | 5 Oct 02 | 7 Sep 02 | Launch Party 22 Jun 02